We're celebrating MCO's first blog-birthday with MCO's Birthday Bash are so glad that you could join us for this event! If you've missed the giveaways up until now, be sure to click on the photo below to enter to win some amazing prizes from Strollers to Cookware!
Click on the image below to be redirected to a list of open giveaways.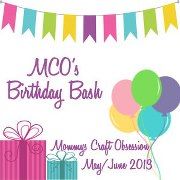 MCO's Birthday Bash is continuing our celebration with a Twitter Party with Baby Trend! Get ready to win great prizes and party with us at the #BabyTrendBday Twitter Party!
Photo Credits: Baby Trend